Definition:
The student strives to model servant leadership, equipping other musicians in a God-given direction through Christlike
character, leadership capability, and love.
Overall Reflection Statement:
For many years, I wanted to be the center of attention while leading worship. Whether this meant trying to write songs or learning to be the frontman, this was my goal. The more I learn servant leadership, the more my focus changes. As I focus on helping the leader, whoever that may be, become more effective, the gig opportunities have increased dramatically. Every worship leader or band needs this kind of service. The artifacts in this section are from Vacation Bible School at Irving Bible Church. I was asked to train and lead a team of high school students to lead VBS music for close to 1,000 elementary children and volunteers. I was responsible for helping the students learn the equipment and setup in the main sanctuary, most of which they had never used before. This included Aviom in-ear monitors, a Butt-kicker onstage feedback system for both bass and drums, and playing to a click track. My own journey to worship and music ministry began while serving in high school. As the week progressed, I watched these students step out, lead and serve for themselves. A particularly effective teachable moment was when some of the students decided they didn't like our VBS music. Their attitudes began to deteriorate, and the energy level dropped. We had a talk where I told them that any type of music career, especially worship, means playing music which may not always be our preference. We must play as a service to the people we are leading and put aside our personal preferences. The students really took this message to heart and began to focus on the kids instead of themselves.
Learning Reflection: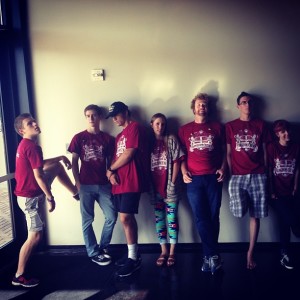 When I was asked to head up the VBS worship team, I was hesitant. The church had no budget for payment, and using high school students can be a real challenge compared to the professional musicians I'm accustomed to playing with each Sunday. I had to realize that teaching, difficult though it may be at times, is truly my passion. The VBS week is easily the most fun I've had on a stage I've played many, many times. IBC has a vision for each age group to be serving with the group below, and this was a great example of how effective this can be with music specifically.
Lifelong Development Statement:
As a result of this experience, I will continue to develop students into the future worship leaders God has called them to be.
---
Irving Bible Vacation Bible School